Intelligent automation and controls to maximize user experiences on web, iOS, and Android apps

Online Commerce
Quality of online experiences is the most meaningful predictor for online browsers turning to online shoppers. Ion delivers fast, reliable and consistent experiences across devices to drive transaction volume, greater shopping cart sizes, frequency of visits, and transactions.
eGovernment
Public sector organizations are under increasing pressure to drive greater efficiency in spending every dollar. High quality online experiences translate into greater cost efficiency, since constituents can get all their answers from a highly available and fast website.
Branding and Web Lead Generation
For companies that don't transact online, their websites drive brand awareness for lead generation and brand perception. The quality of these experiences influence brand perception, which can impact in-store purchases.
Online Publishers
Great user experiences are the gateway to better media engagement, which can drive positive customer satisfaction and repeat usage. Creating, growing and retaining large audiences begins with the quality of the online experience.
SaaS Companies and Online Tools
Companies that have moved to SaaS-based models are looking at flash traffic that can be seasonal or based on time of day. High volume of requests can drive development costs. Ion can relieve these costs, helping reduce abandonment and increase customer satisfaction.
Intranet and Partner Initiatives
Sites that leverage the internet and cloud services to deliver critical online services are the lifeblood of partners and distributed companies. Ion helps overcome poor performance, driving more consistent and secure online operations, while realizing increased productivity.
Dynamic Acceleration
Provide consistent performance over wired and cellular connections and realize improvements through protocol optimizations, including real-time IPv4/6 adaptation. User experiences benefit from fast and efficient modern web protocols like HTTP/2 and WebSockets.
Policy-Driven Optimization
Provide differentiated user experiences with a range of content analysis and client-side optimizations to help users interact with your content sooner through advanced prefetching, adaptive consolidation, asynchronous loading, and script management, helping engage users with on-demand page and mobile app presentation.
Real-time Self Service Management
Keep your content fresh and engaging with web-based tools and APIs that simplify operations including content and traffic management, link management, and protection from attacks while helping your online properties scale to meet peak demand.
Mobile Application Performance SDK
Ion now extends performance into mobile application users' hands via SDK. Users benefit from pre-positioned content and reduced latency in cellular networks, while developers gain insight into real devices and user to help tune app experiences with accuracy.
Adaptive Acceleration
Deliver rich, personalized experiences to your users without lifting a finger. Machine learning uses real user behavior to continuously adapt and prioritize performance optimizations across your site. Ion determines the optimal time to push or compress content and pre-connect to third parties to deliver fast and optimized experiences automatically. Ion's Script Management functionality provides visibility into the impact of first- and third-party scripts on your page, giving you automated controls to avoid costly outages.
The pressure to deliver great online experiences is higher than ever. Across sites and apps, 53% of visits are abandoned if a mobile site takes more than 3 seconds to load, and 49% of users expect a mobile app to respond within 2 seconds or less. What's more, 50% of online transactions involve multiple devices. To realize digital success, businesses must always deliver a great experience on every form factor and device, or risk reduced customer satisfaction, brand perception, and revenue opportunities.
Ion, Akamai's flagship performance solution, is a suite of intelligent performance optimizations and controls that helps deliver superior web, iOS, and Android app experiences. Built on the SLA-backed availability of the globally distributed Akamai Intelligent Edge Platform™, Ion continuously monitors real user behavior — applying best-practice performance optimizations automatically — and adapting in real time to content, user behavior, and connectivity changes.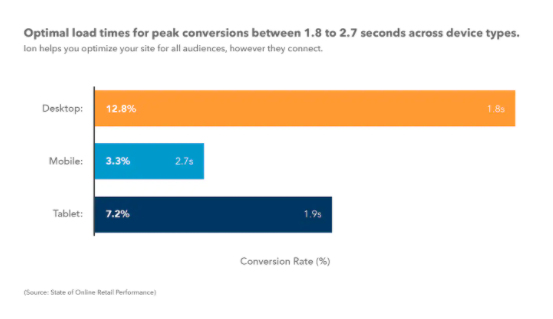 BENEFITS TO YOUR BUSINESS

Gain valuable insights
Provide unparalleled insights with peerless performance to drive better experiences and improve your business. Apply performance optimizations automatically based on real user and application behavior, powered by the best RUM solution in the market: mPulse.

Decrease operational costs while gaining reliability
Get a handle on the cost of delivering your site. Reduce the load on your origin infrastructure, especially during peak demand periods. Make your content always accessible using failover and origin health detection.

Reduce page weight and accelerate rendering
Support responsive web initiatives by reducing resources and only sending necessary bytes to users, so pages load faster. Manage first- and third-party scripts, accelerating delivery, rendering, and eliminating single points of failure, so pages load consistently.

Engage more users
Drive more business by bringing content closer to users, providing all users with the same experience regardless of their device, network, or geographic location. Target audiences with the best possible experience for each of them.

Deliver Ideal Mobile and Cellular experiences
Adapt content to your users' device and overcome cellular network challenges. Create the ideal mobile experience using insight into your users devices, and tools to overcome the challenges of cellular networks.

Accelerate content
Ion makes your site fast for online audiences thanks to routing around congestion points and other bottlenecks, while leveraging the latest network protocols to accelerate dynamic content.