One-stop, zero-compromise security for websites, applications, and APIs.

More protection. Better outcomes. Less friction.
Tailor defenses to the latest applications and threats
Dynamically adapt protections to evolving attacks — including those targeting the OWASP Top 10.
Simplify security with automated updates and self tuning
Minimize effort with Akamai-managed updates and machine learning–powered self tuning.
Empower developers and security teams
Operationalize security with a choice of popular tools and deploy within a CI/CD pipeline.
Stronger security with less effort
Adaptive protections
Automatically and effortlessly pushes the latest protections for your apps and APIs.
DevOps integration
Manage with a simple, intuitive GUI, or with our Terraform provider, APIs, or the Akamai CLI.
Fast onboarding
New wizard streamlines the integration and configuration workflow.
Advanced API discovery
Manage risk from new or previously unknown APIs while monitoring for malicious payloads.
Deep attack visibility
Custom dashboards, real-time alerts, and SIEM integration help you investigate and triage attacks.
Advanced security management
Optional advanced controls with more configuration and automation flexibility.
Bot mitigation
Detect and mitigate unwanted bot activity before it becomes a larger, more complicated problem.
DDoS protection
Instantly drop network-layer DDoS attacks. Respond to application-layer attacks within seconds.
Managed services
Offload or augment management, monitoring, and threat mitigation to our global, 24/7 team.
Akamai's visibility into prior behavior of individual and shared IP addresses is designed to stop malicious clients before they can attack.
The changing threat landscape forces you to constantly improve your ability to act on suspicious client behaviors. Apply an additional layer of protection on top of Kona Site Defender to mitigate the risk of successful DDoS and application-layer attacks while minimizing impact to legitimate users.
Client Reputation uses a proprietary risk-analysis engine that computes risk scores for every source IP address, customized for every customer. This custom risk-based scoring model will increase the accuracy of your security decisions by better identifying malicious clients. Client Reputation provides deep visibility into client activities to add an extra layer of intelligence-based protection to your web application security.  
BENEFITS TO YOUR BUSINESS

Leverages visibility into global attacks
through Akamai's Cloud Security Intelligence big data analysis engine.

Reduces business risk associated
With DDoS and web application attacks.

Actionable security intelligence – customize actions
Based on predefined thresholds and your organization's perceived risk.

Protects brand image
From unexpected loss resulting from downtime or data breach.

Provide additional layer of defense
Against scrapers, hacktivism and fraud.

Provides additional layer of defense
based on previously observed malicious client behavior.
Application Access Redefined: Secure, Simple, Fast.

Most advanced bot detection
Bot Manager employs multiple layered detections to identify bot activity, including signature-based, behavioral, and statistical anomaly detections. Signatureless approaches that leverage big data and machine learning distinguish the most advanced bot activity from legitimate use.
Unmatched bot traffic visibility
Akamai has a deep understanding of both bot and human traffic, with visibility into 485 million bot requests per hour and 280 million bot logins a day, as well as interactions with 1.3 billion clients and up to 82 Tbps of legitimate traffic, on average, every day.
Human behavior differentiation
Understanding human interactions requires more than evidence of a single keyboard stroke. Bot Manager analyzes hundreds of behavioral, browser, and device signals and compares them against legitimate human behavior over time.
Flexible management actions
With a range of advanced, conditional, and challenge actions out of the box, Bot Manager lets you shape traffic to achieve your business objectives. As bots vary, so should your responses ― from basic tactics to advanced mitigation that slows bot traffic or serves alternate content.
Protecting pages and applications
Bot Manager protects your entire site, not just login pages. This allows you to tailor bot defenses to address a variety of risks, including high-value destinations such as login and account registration pages, as well product and marketing pages throughout your site.
Deep learning algorithms
Delivering over 95 exabytes of data across billions of devices for over 6,000 of the largest online companies, Akamai has tremendous insight into legitimate and malicious traffic. Vast amounts of data feed machine learning algorithms for highly accurate results.
Mobile app protection
Bots will seek out any weak point, probing for unprotected pages and endpoints. Bot Manager extends from your web pages to native mobile applications using the same advanced bot detections, making it easy to protect your entire attack surface.
Granular reporting
Dashboards provide a high-level view of bot traffic, then allow you to drill down further with snapshots of protected endpoints and analytics to help you better understand bot impact. Bot Manager integrates with other security solutions and your SIEM for a holistic view of security posture.
How Does Bot Manager Work?
Bot Manager is built on the Akamai Intelligent Edge Platform with approximately 300,000 servers in more than 130 countries for unmatched scale, resiliency, and performance. Clients ― real users and bots ― connect to your web application through the most optimal Akamai server, and Bot Manager detects, identifies, and manages bots at the edge ― before they get to your applications or data centers.
Bot Manager is designed to take the configured actions on bot activity at the edge server, forwarding only clean traffic to the origin. Supervised, unsupervised, and deep learning algorithms adjust to trends in legitimate and malicious traffic, and managed security services tune Bot Manager protections and respond to attacks. Bot Manager integrates with other Akamai security solutions, including distributed denial-of-service (DDoS) protection and web application firewall (WAF), for comprehensive application security.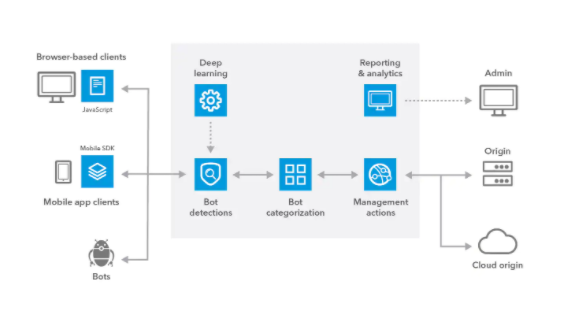 BENEFITS TO YOUR BUSINESS

Better control your web traffic
You interact with more than just your customers through your website. Better understand who is coming to your website and what they are trying to do. Then, apply the right policies to control how they can interact with you, what content they can see, and their impacts on your business.

Maintain competitive advantage
Whether it is to price match or repurpose your value-added content, your competitors often scrape your website to gain an advantage in the market. Bot Manager can help you better manage your online competitive dynamics and retain control over your customer relationships.

Reduce Technical Complexity and Debt
Offload both your bot traffic and the operational overhead required to identify and manage it to the Akamai cloud delivery platform.

Granular visibility into bot traffic
Better support and provide greater value to the business. With granular and real-time visibility into bot traffic, Bot Manager helps you reduce the time to visibility and enables you to provide better insights to your business about the makeup of their bot traffic.

Minimize impacts of web fraud
Reduce your financial risk by protecting your website against credential abuse, gift card balance checking, and other forms of web fraud. Bot Manager can detect and identify the most sophisticated bots—including those seen conducting these types of attacks.

Maximize and protect online revenue
Your website has an integral role in your online business strategy. Whether you sell products or services, monetize visitors through ad revenue, or are trying to improve your search rankings, Bot Manager helps you protect and optimize how your content is consumed in order to drive revenue from your website.