GLOBAL TRAFFIC MANAGEMENT
High-performance, scalable, and resilient load balancing to seamlessly handle peak demand and outages, across cloud or premises-based data sources.

Data Center Replication
When it comes to your business, you need to ensure that critical information is replicated, without hardware or network issues becoming a factor. Akamai Global Traffic Management ensures that critical information remains accessible to end users from any of your data centers at any time, 24/7, and offers a 100% SLA to back it up.
Optimizing Web/Application Performance
Whether you use the Akamai Intelligent Edge Platform, another CDN, or your own servers for delivery, end users expect fast response to maximize productivity or web experiences. Akamai Global Traffic Management offers seamless access across locations based on policies you set so that the best available resource is used to deliver your web and application content.
Hybrid Environments
Global Traffic Management is a flexible, multi-use, multi-protocol tool. Whether delivered from cloud data centers, multiple CDNs, or premise-based servers, Akamai GTM can manage traffic for a surprising range of applications — cloud applications, web pages, video streaming, software downloads, or others.
Geotargeting
Because it's available globally as an integral part of the Akamai Intelligent Edge Platform, GTM provides the flexibility to deliver web applications or content from optimal geographic locations, whether from multiple clouds, hybrid clouds, or enterprise data centers. With GTM, end-user connections are routed to the geographically or topologically closest edge servers.
What is Global Traffic Management?

Global Traffic Management (GTM) is a global server load balancer that enables faster and more reliable access to your websites and applications. Based on a DNS network consisting of over 10,000 servers, Akamai GTM is the only load balancing solution that leverages the global scale and speed of the Akamai Intelligent Edge.
Unlike traditional hardware-based solutions that reside within data centers, GTM operates "above the data center," applying an Internet-centric approach to make intelligent routing decisions based on real-time data center health and global Internet traffic conditions.
GTM generates an optimized route for each end user to the data center that's closest and has the capacity to perform at a high level at any given moment, creating greater fault tolerance and faster response times for your websites and applications.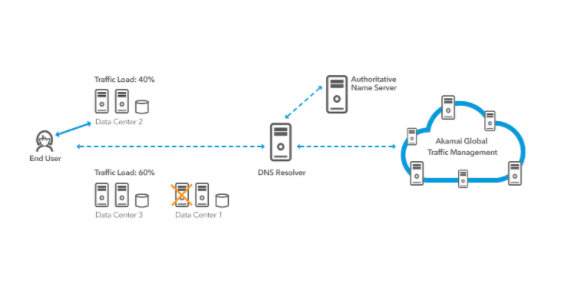 BENEFITS TO YOUR BUSINESS

Through the Akamai Control Center, Global Traffic Management provides many controls to manage traffic across data centers and targets. GTM enables you to dynamically configure traffic allocation and set up new websites and applications without disrupting current traffic.

Global Traffic Management applies intelligence consistently and universally, offloading the burden of managing web traffic from individual data centers to the Akamai Intelligent Edge.

With a 100% uptime SLA and points of presence distributed throughout the world, Global Traffic Management ensures that end users and customers can always reach your applications and sites.

The Akamai Intelligent Edge offers the built-in redundancy and global scale needed to absorb the largest DNS-based distributed denial-of-service (DDoS) attacks, helping you to avoid potential security threats while minimizing risks caused by data center outages.

Balancing traffic across all data centers empowers you to select the right combination of on-premise and cloud-based data centers to ensure high performance and availability.

Global Traffic Management mitigates the impacts of traffic spikes and improves response times by intelligently balancing traffic based on real-time data center health and Internet traffic conditions.